Blue Steel Pointer -- A Modern Decoration Trends in the Watches World
In the watch world, There is a saying goes that "dial is the face, and the pointer is the eyes". It means that if the dial is linked to a person's face, then the dial is the face and the pointer is a person's eyes.
Looking back the history of the development of watches from the initial timepiece to pocket watches to the wrist watches, the shape of pointer is also changing with the time. For example, in the war years, the straight needle was simple, and could cover a large area of fluorescent paint,with it's easy-to-read feature quickly became popular, and it was used in aviation watches, military watches and outdoor watches. The diamond-shaped needle used by the Luftwaffe during World War II; and the Louis needle that can reflect the noble and elegant of old Western aristocracy, etc. The appearance of each needle can reflect the needs of humans for a period of time. There are many types of pointers. In the world of pointers, if you can call out the name of each pointer, it would be quite professional.
The evolution of pointers all reflect that human beings are paying more and more attention to the function, practicality and beauty. After the trend of decorative art created a new idea of watch design, a kind of watch pointer called blue steel pointer emerged. This is a special firing process for the hands of the watch. Make the steel hands are slowly burned to a certain temperature, so that the surface of the hands is oxidized and gradually turns into a blue color, and then turns to light blue after being quenched. Blue steel hands have excellent anti-corrosion, wear resistance and high oxidation characteristics, and because they are baked blue, they are beautiful and it can show that the position of the watch is not low, it is also a status symbol. BERNY, a time-honored watch company located in Shenzhen, China, under its
AM7018 series
, is a hollow-out design dial with a sapphire mineral crystal, a mechanical watch with blue steel hands and a stainless steel strap . It has a luminous and 50-meter water resistance function, with its luxurious and fashionable appearance and multi-function, it is deeply loved by consumers.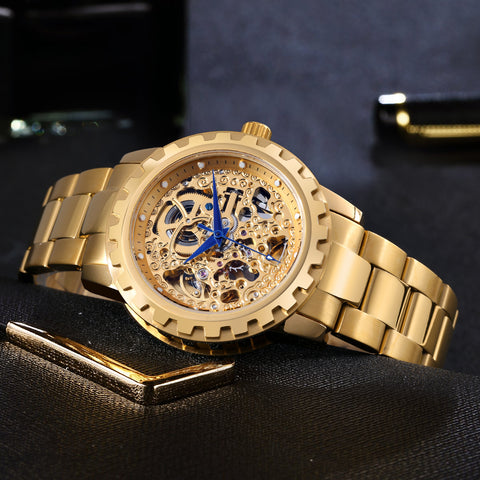 The production of a watch requires not only rich functions, but also the positioning of the product and the combination of each part. Only in this way can we design a watch that meets the aesthetics and reflects the needs of consumers!
0 comments